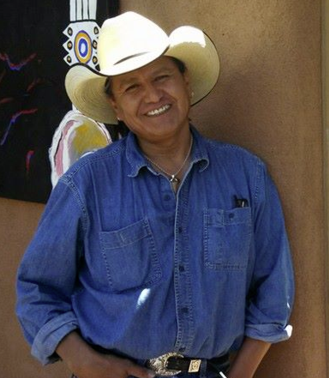 Andersen Kee
A child of the Navajo reservation, Andersen himself would make a great painting. Andersen Kee was born in 1959 to a mother who was a weaver and a father who dabbled in oil painting. My dad did a little painting and silverwork. He did every day life scenes – people working with horses, typical Navajo home settings, and so on. At the time I didn't think much of it. I was just a kid, but I guess that's where I got my first idea about wanting to paint.
Of high school Andersen Kee says, I hung out quite a bit in the art class and got to be really good friends with the art teacher, Larry Giller. He took certain students and gave us special assignments beyond the normal work required. He helps me get brochures to all these colleges and to apply to the Institute of American Indian Arts in Santa Fe.
Andersen was accepted into the prestigious IAIA. I liked Santa Fe. We had a lot of fun and, the Institute was very good for me. They had a lot of good teachers and I learned a lot.
His early work was often narrative — portraying scenes of buffalo hunts, Plains Indian camps, action scenes, and landscapes. Slowly he shifted to dramatically lit chest-up portraits set against simple backgrounds.
Andersen Kee's subjects seem ready to draw breath and step out from the canvas. Most of them come from his imagination, but occasionally he researches and paints little known historical figures. Even in his imaginative scenes, Anderson makes sure that every detail about his character's dress, hair, cultural accouterments, and possessions are all true to life. The hair has a lot to do with the look, he notes, how long it was worn, how it was cut and dressed.
And beyond painting, he says, I see my sculpture in the same light my paintings, but the silverwork… I simply like doing it as a break from routine.
Through Andersen's life and art, he carries forward the living spark of those who went before and those who will follow.