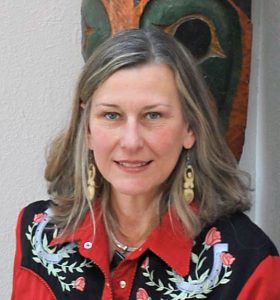 Gayle Weisfield
Embracing Taos as her home came naturally to Gayle as a Western Artist. The exceptional quality of light and the variety of enchanting outdoor scenery scented by sage and pinion air beckoned. As a child, Gayle Weisfield took in every one of the many details within the landscape, serving her well as she painted years later. Her family raised livestock and showed Registered American Saddle-bred horses, teaching young Gayle that the spirit of the West was hard, dusty work. 
Behind each Weisfield painting is an interesting story that inspires her work. Gayle's love for watercolor, the outdoors, and the Western lifestyle continues to shape her life. She refers to her style as "impressionistic realism;" a translation of perspective, history, form, and color. All as steeped in the essence of the West. 
Gayle leads educational painting experiences for artists, where travelers paint, learn, and are renewed in culturally rich locations. Using her architectural training, Gayle is passionately renovating her third historic adobe in Taos to serve as her studio.
Gayle attended the University of Washington, graduating with a Bachelor of Fine Arts degree. A signature member of the Northwest Watercolor Society and a charter member of the Southwest Washington Watercolor Society. A published artist in Splash 11: New Directions, her art is featured in galleries and shows throughout Washington, Oregon, and California.