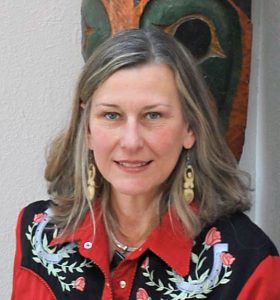 Gayle Weisfield
Gayle Weisfield, accomplished artist, talented instructor, world traveler, and a passionate student of life. She works primarily with transparent watercolor in a style she describes as "conceptual realism." Subjects range from the natural scenery of the Columbia River Gorge, in which she lives, to the architectural beauty found in Thailand, Rome, and beyond.
An avid believer that everyone is an artist, Gayle is enthusiastic about and committed to teaching workshops. Over the last twenty years, she has taught hundreds of students. Using the watercolor sketchbook journaling techniques that she developed, Gayle successfully taps into the students' inner creativity. Recent workshops have taken Gayle to Hawaii, Mexico, Guatemala and all over the western United States.
Although best known for her watercolor paintings, Gayle is fluent in many artistic mediums. From murals to three-dimensional sculpture, Gayle allows her subject matter to inspire and dictate her choice of medium and technique.
Gayle attended the University of Washington, graduating with a Bachelor of Fine Arts degree. A signature member of the Northwest Watercolor Society and a charter member of the Southwest Washington Watercolor Society. A published artist in Splash 11: New Directions, her art is featured in galleries and shows throughout Washington, Oregon, and California.