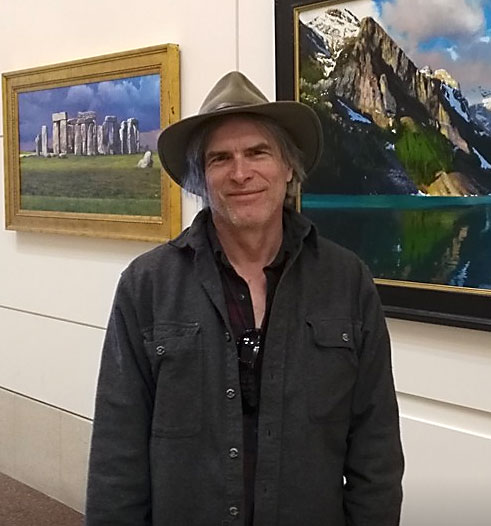 Mitch Caster
For as long as he can remember, Mitch Caster has been drawing and painting — capturing the essence of the good that is around him. While he paints a wide variety of subjects, one of his specialties over the years has been dance. He has worked with the Colorado Ballet since 1994 and was recently honored to have his paintings featured at Lincoln Center in New York City, in celebration of the New York City Ballet's 50th Anniversary. He also paints Flamenco, Native American, Latino, and other dance forms.
Mitch also paints the human form in all walks of life, whether it's a mother and child on a street in Spain or a lotus gardener in China. He also paints still life, landscapes, cityscapes, and old buildings — from the crumbling structures of Venice to the grand castles of Britain, to the adobe structures of the American southwest. To Mitch, the adobe structures "have a life of their own. It's like painting skin." Mitch's fascination with people and historic subjects stems from his appreciation of the efforts of all cultures to pass on their uniqueness and history to new generations, and to other cultures, as well.
Mitch began his formal study of art at age 16 at Rocky Mountain School of Art in Denver. He later worked for 9News/KUSA-TV for eleven years creating news graphics and doing courtroom sketching. In 1988, Mitch decided to pursue his life's ambition — fine art. In addition to painting, he also teaches at the Art Students League of Denver. He has also continued courtroom sketching and has covered some of the nation's most notorious trials. His work has been seen on every major U.S. network, and internationally, as well. He has received numerous awards for his artwork and courtroom sketching and has appeared as the courtroom artist in two Perry Mason movies. His fine art appears in the private, foundation, and corporate collections around the world, including the United States, Great Britain, Germany, Japan, and Russia. He is a Signature Member of the Oil Painters of America, American Society of Marine Artists, and National Oil and Acrylic Painters Society. He has been featured in American Art Collector, Southwest Art, Fine Art Connoisseur magazines.